Discover the Styles and Techniques That You Can Learn From Our Classes
Then check out this list of classes available for group classes or private parties. If you are interested in one, or more classes, just fill out the form below and let us know which class(es) you are interested in and we will let you know when the class(es) becomes available.
Another option is a Quilting Party!! Yes, a party where you and your friends learn a new pattern or technique and celebrate a Birthday, Girls Day Out, or any other reason to party with friends and family! Each party is unique and we can help by offering our service with decorating, food, and all the details to make it a blast! Contact us and we can work out all the details.
Shooting Stars Quilt Class (In

Person Class)
Ready to try something new? Introducing Cabbage Quilting! This unique technique uses any scraps over an inch wide, orphan blocks, "oops" blocks, or even non-traditional fabrics to create unique usable fabric to create one of a kind quilts that are fun and easy to create!
In this class we will be using Cabbage Quilting to create this Shooting Stars Quilt, Just add a few accent fabrics and a background fabric to make an Out of this World Quilt! This quilt measures 78" X 84". Besides your basic piecing supplies, all you'll need is the pattern, lots of scraps and a ruler for squaring up blocks (at least 6 1/2").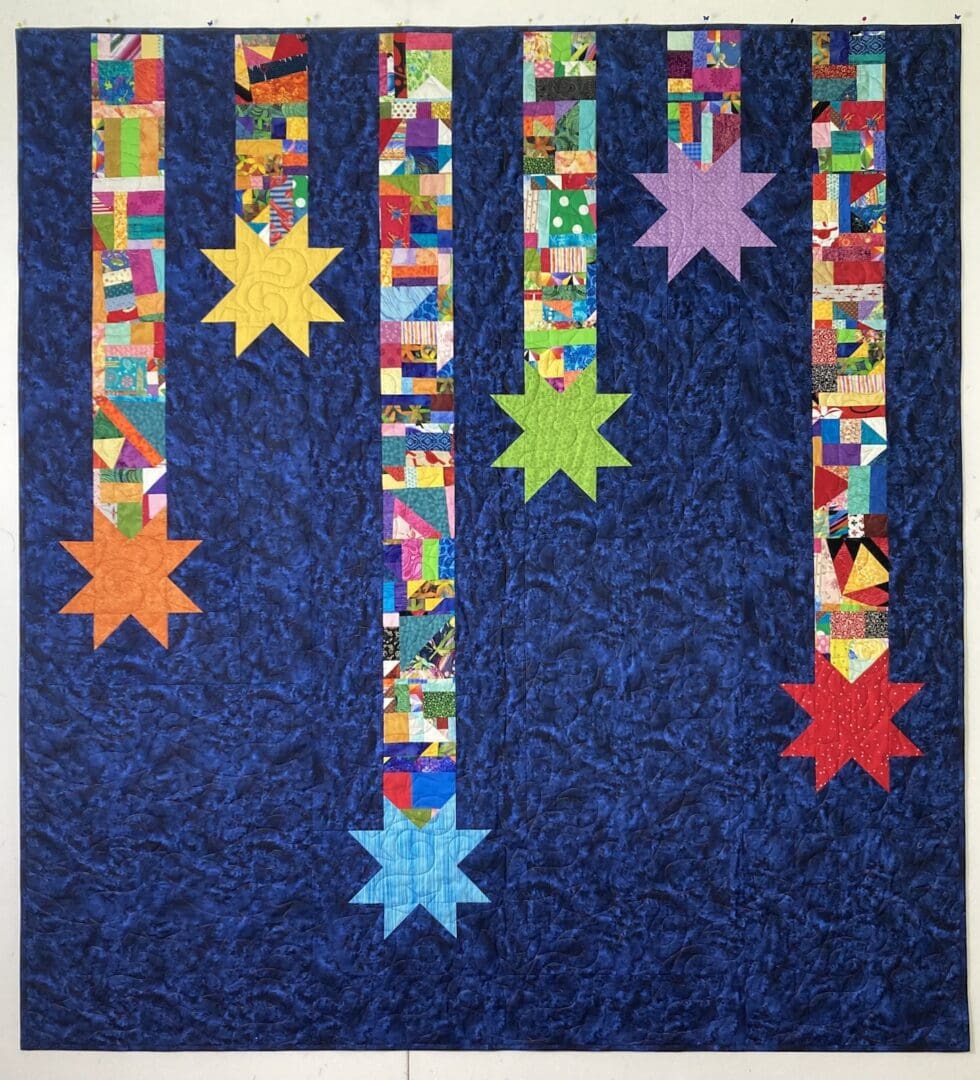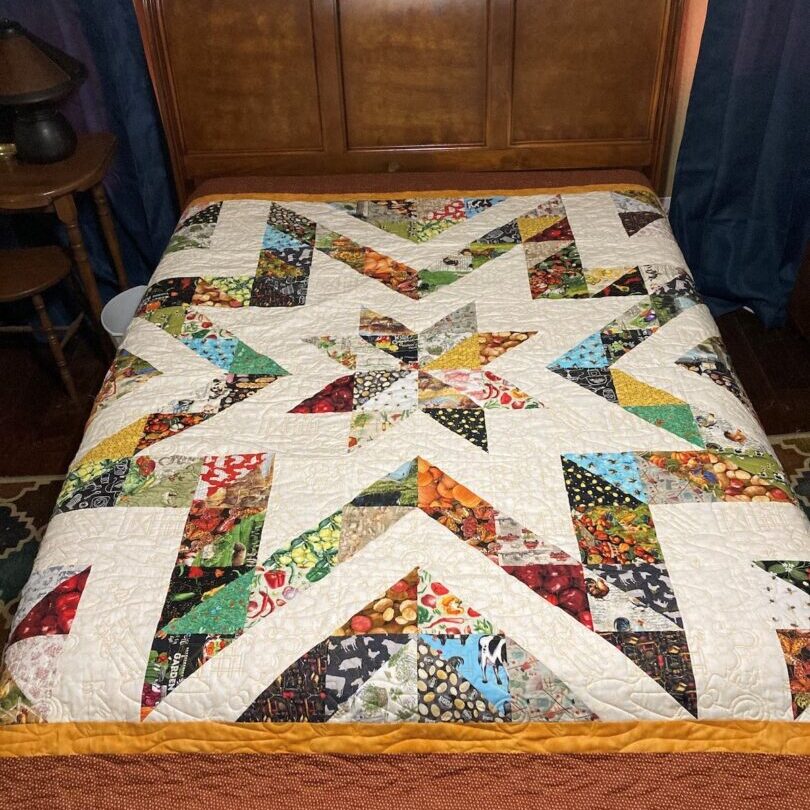 Guiding Star Quilt Class (In Person Class)
What a statement this quilt makes with this oversized star as the focus of the quilt. Guiding Star is a fun and easy pattern! No special rulers, just fun Half Square Triangles (HST) that can be made from a theme or go scrappy! This pattern comes in 3 sizes, Queen (88X88"), Throw (67"X67") and Baby (47"X47"). The Queen size shown here is a great way to use some bigger prints from your stash. This is a great way to learn to make 2-at-a-time HST to make the quilt blocks that much faster.
Wanderer's (Gypsy) Wife's Classes
She had
The soul of
A Gypsy,
The Heart of
A Hippie,
And the spirit of a
Fairy… Quilter!
The Wanderer's (Formerly Gypsy) Wife Quilt is best described as a puzzle of beautiful blocks. The Quilt measures at 59" X 86". All the blocks are machine pieced and works beautifully as a very scrappy project to use up bits and pieces you have collected or for those who like, you can do more of a controlled scrappy. (Check out some of the examples I found on the internet of this fascinating quilt.)
We will be breaking the blocks and sections down into 7 manageable classes. This will be similar to a Block of the Month style class. We will have a Prep and Plan Session where we'll go over the Quilt requirements, a little info to help get a grasp of how this quilt goes together and a bunch of tips, tricks, and strategies to make this quilting experience all the more fun!
Are you ready to have a fun and creative time letting your gypsy soul wander!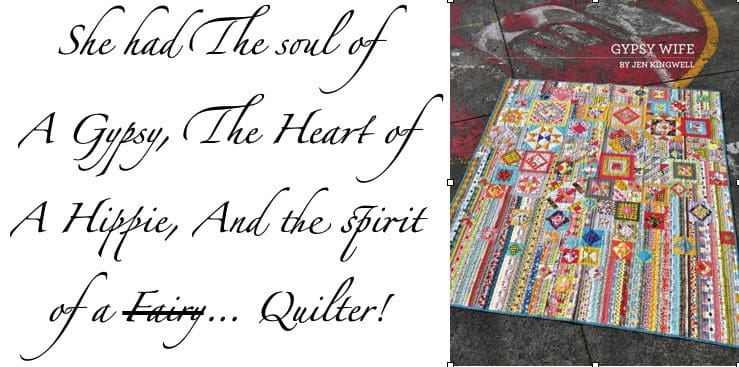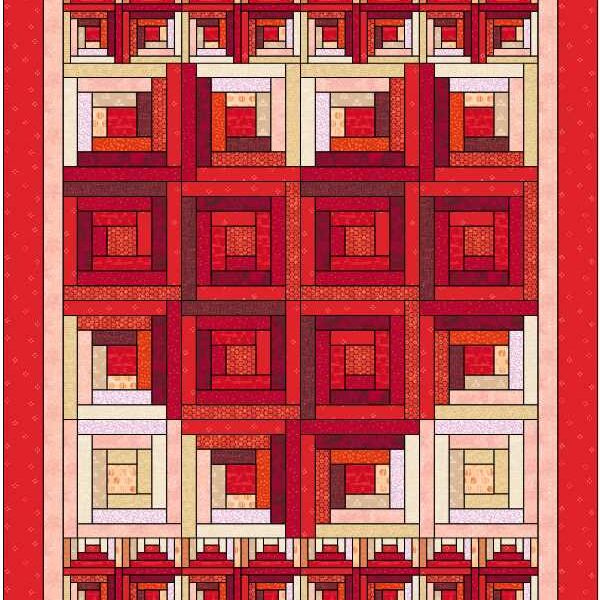 I Heart Log Cabins! Quilt Class (In Person Class)
What a We ♥️ this original pattern for a log cabin quilt. Using the Creative Grids Ultimate Log Cabin trim tool we will learn how to make perfect 6" and 12" blocks with one ruler. We just love a dual purpose ruler, don't you? This pattern is available in 2 sizes. The small heart size is 60" X 78" and the Big heart size is 84" X 93". This pattern is fat quarter friendly and is also a perfect way to use up some scraps too.  The more variety the better! What color will your
be?
Dis Way & Dat Quilt Class (In

Person Class)
Down here in the South, we like it fun and easy. Imagine taking Dis simple little block and turning it Dis way and Dat and coming up with this fascinating quilt. Really, that's all there is too it! Just like that ol' folksong we heard when we was little… Dis a way, Dat a way All day long!
This adorable little quilt measures 45" X 52.5". Perfect for a toddler quilt or a lap quilt. It's an easy weekend project! We also have a larger size, cause once you start makin' these blocks you don't want to stop!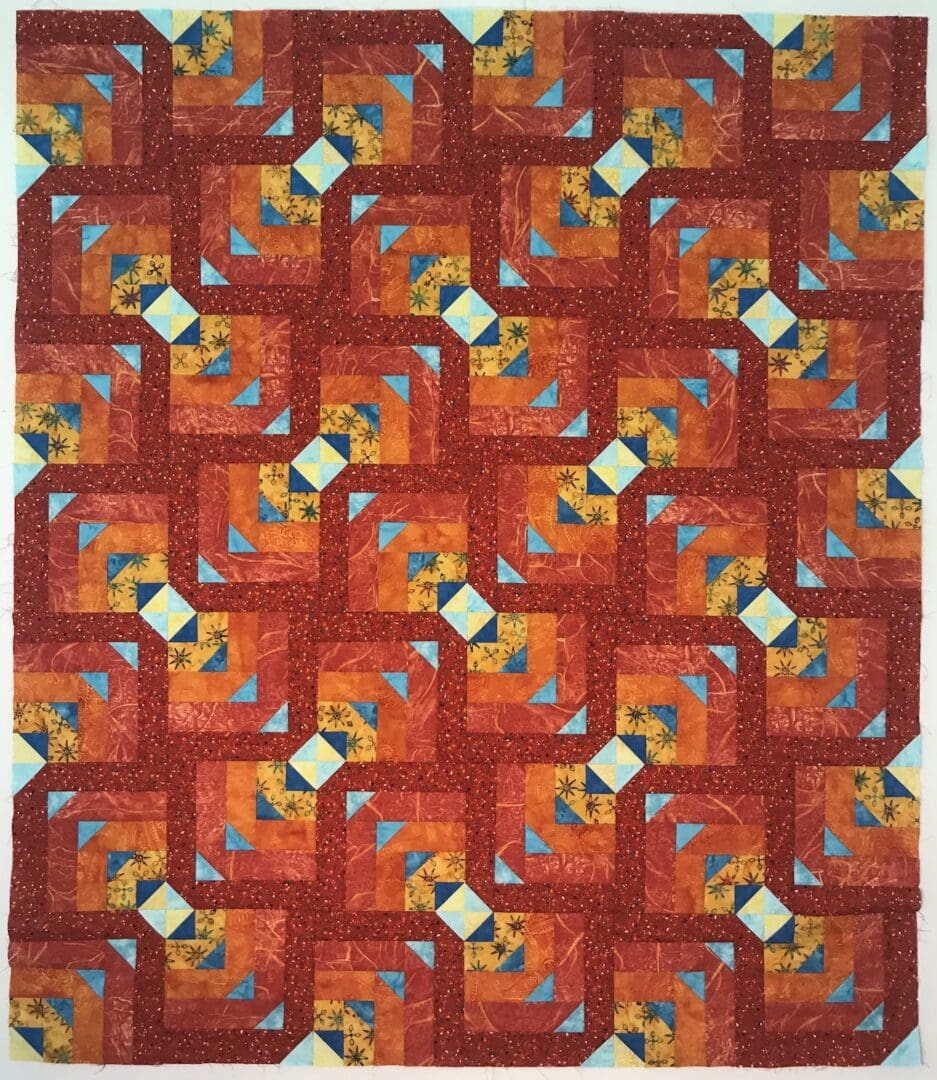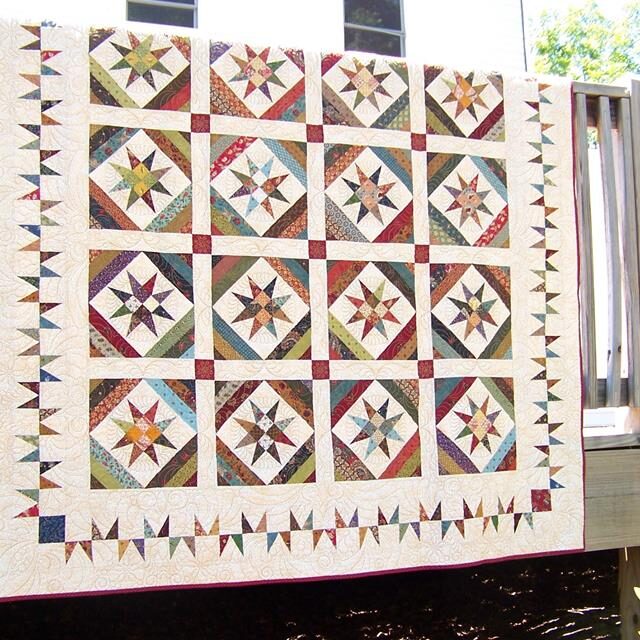 Good Fences Quilt Class (In Person Class)
I'm so excited to share this quilt pattern with you. We're focusing on the Strippy Star Ruler from Creative Grids and you won't believe how easy these blocks are to make. We absolutely love the border on this quilt called Good Fences, and the blocks are so interesting too.  Best part is that this is a scrappy quilt to use up those odds and ends.
Cat'apult BOM Double Time Quilt Class (In

Person Class)
D
We have a fun Block of the Month (BOM) called Cat'apult, and we are doing it double-time which means we are learning 2 blocks a month.
Cat'apult BOM incorporates 12 blocks that use the Creative Grids Cats Cradle Tool and  has 3 setting options. And a fourth option my friend Paulette Benoit Designed.  Each block is fun and fast to create! The blocks can be used together like in this sampler, individually or a mix and match for endless quilt possibilities.  This pattern has finishing Instructions for completing multiple sizes of quilts. Finished Size options include 75 inches x 92 inches; 92 inches x 92 inches; 63 inches x 78 inches; 56 inches x 64 inches. Anyway you go it's going be purrfect!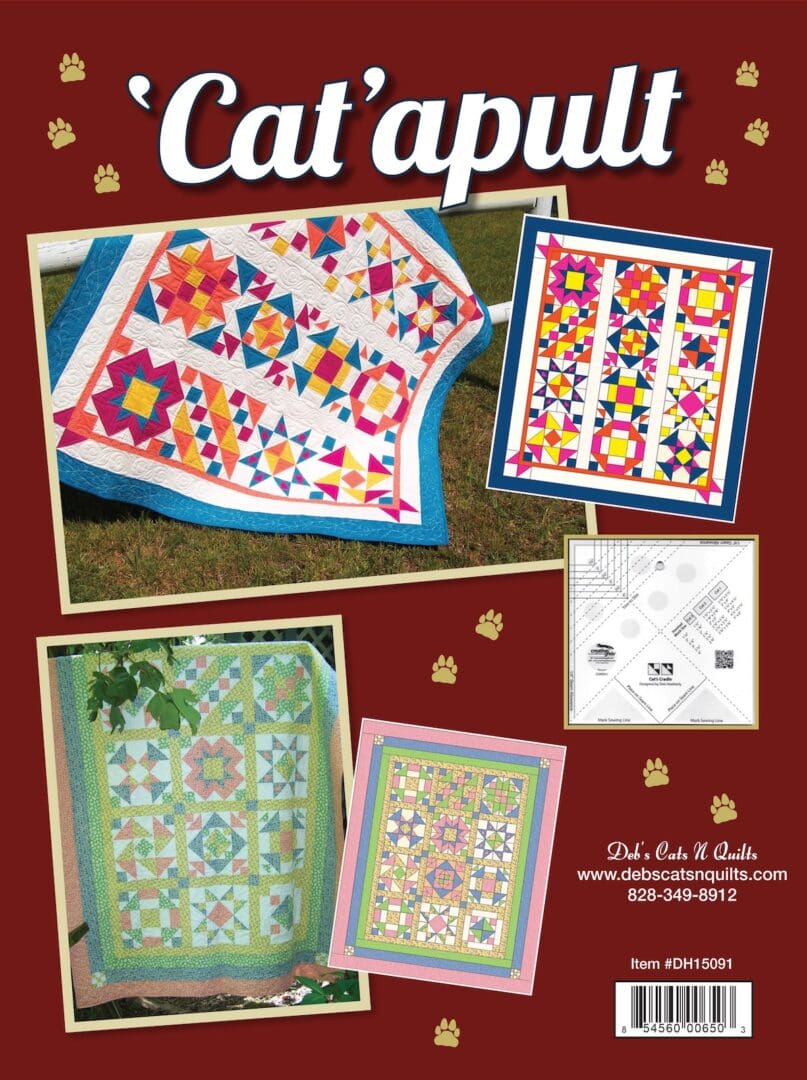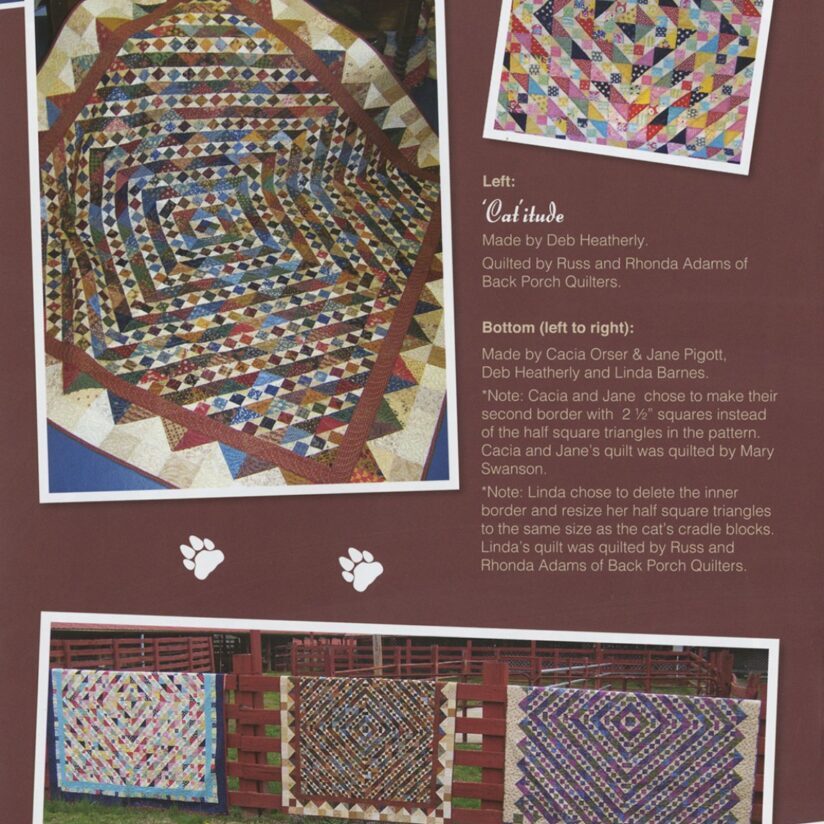 Cat'itude Quilt Class (In Person Class)
One simple block, and not a single triangle cut to make them!! This quilt differently has some 'Cat'itude!!
This Quilt pattern comes in 2 sizes a Lap quilt the measures 66" X 66" and a Queen Size that's 92" X 92". Either size is designed to use up your scraps, but are also charm squares and jelly roll friendly. The secret to this quilt is variety. The more colors and prints the better! Working with scraps from previous projects is like visiting old friends. So gather up all your friends, young and old, and get ready to create a purr'fectly awesome quilt!!  
This quilt is fun and with the Creative Grids Cat's Cradle Tool, construction is easy… AND did we mention you won't cut a single triangle to make them!  Fair warning... these blocks are addicting!
Are you ready to have a fun!
Purr'fect Star Quilt Class (In

Person Class)
The Purr'fect Star quilt uses two different blocks and an unusual sashing layout to make a 70"x 76" quilt. This Patternuse the Creative Grids Cat's Cradle Tool and the Strippy Star Tool We have our fabric choices selected and we look forward to seeing what fabrics you pick out. I'm sure they will be purr'fect!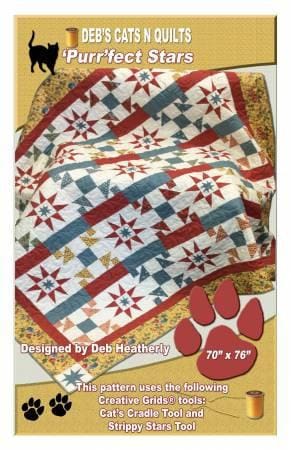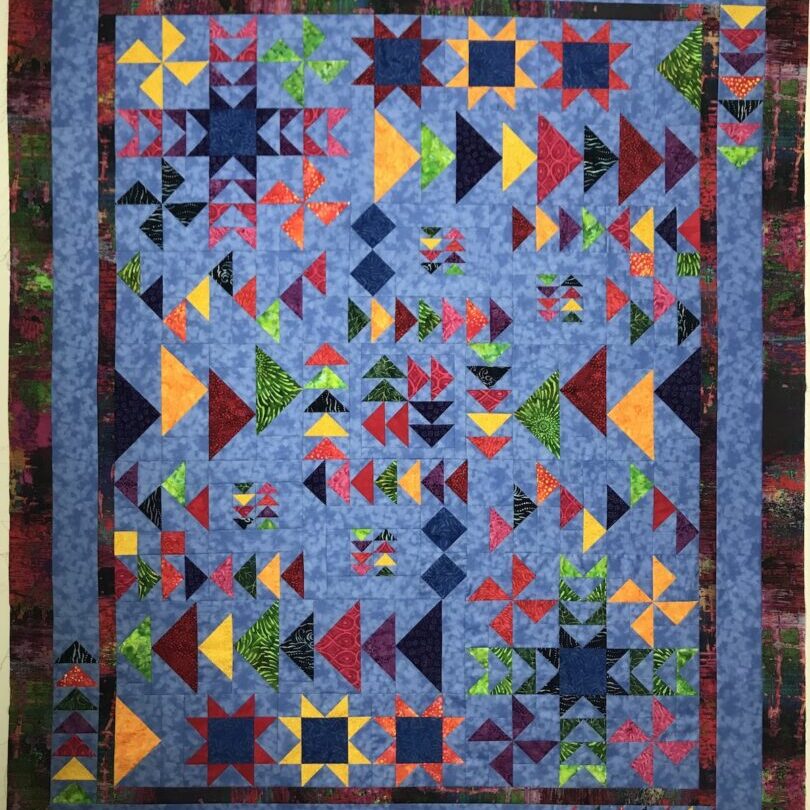 Got Geese? Quilt Class (In Person Class)
If you love flying geese, but find them intimidating, then this class is perfect for you! We will use the Creative Grids Ultimate Flying Geese Tool to get perfectly sized flying geese units to create stars, rows, pinwheels and starburst blocks. This pattern makes a 69" X 69" throw size quilt or a 69" X 85" twin size with Mary Pat's version, perfect to showcase these fun and versatile blocks where the geese have gone wild!!
Classes I am Interested In
"*" indicates required fields