This is us…
Hi! My name is Mary Pat Hampton and with the love and support of my husband, Ben, we started this hand crafted business. I love quilting and creating quilts and seeing them come to life in stitches. I grew up in Missouri and moved to Louisiana in 2010 when I married my Louisiana man.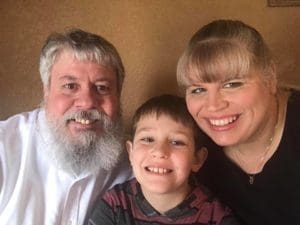 I got the crafting bug when I was very young. And I'm afraid there is no known cure for it! I love crafting of all types but my heart has been pulled toward sewing and quilting. When I was in 6th grade my neighbor across the street sat me down with a template made from the back of a cereal box and had me cutting out hexes and hand stitching them together for a baby doll quilt.
Then in High school I tried my hand at hand quilting. I think I did everything wrong that you could in one quilt. I used 2 layers of extra thick poly batting and tried to make these tiny tiny stitches which only discouraged me. I ended up giving up on that project but I kept it for I had hand embroidered the top. Years later when I was pregnant with my first son, Vincent, his great grandma who hand quilted beautifully, patiently took out all the stitches and the extra layer of batting and finished it for me in a day. The baby quilt has survived a house fire and looks a little rough but its still a treasured keepsake for my son.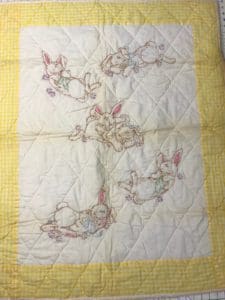 Through the years I had made quilts for friends and family but I always yarn tacked them because I knew hand quilting was not something I wanted to try again and my attempts at free motion quilting on my domestic sewing machine left me lacking. And sending it off to be quilted at that time was not something I knew about (years before internet). I had made one such quilt for my son, Vincent, and he had used it so much that the backing had worn thin and he needed it repaired. I trimmed the binding off, clipped the yarn tacks, replaced the batting and backing and long armed it back together. I even had some of the original fabrics left, so I made him matching pillowcases. He is one happy young man.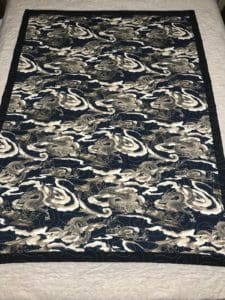 In 2016 the quilting bug came back with a vengeance when I was introduced to the long arm quilting machine in all of its wonderful glory. I took a long arm quilting class and became certified to use a long arm quilting machine. It only took making one quilt for me to realize I really needed one of these beauties in my life. The only challenge was the fact that we were renting a house at the time and there wasn't a spare room large enough for a long arm machine. At this same time my nephew, Carter, moved in with us and the house was suddenly way too small. We had been wanting to buy a place of our own for a few years anyway and this was the motivation we needed. My main requirement was the house had to have a room big enough for a long arm and my crafting supplies. Paradise was found and my search for a long arm began…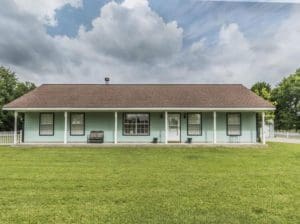 I found a gently loved Handi Quilter Avante and I've been quilting every chance I can. Then I had friends ask if I could quilt for them, and that made me realize I wanted to start a business where I can stay home and take care of Carter, who we officially adopted and love with all our hearts. I wanted to be able to enjoy time with him and go to his school functions. Children are only young once!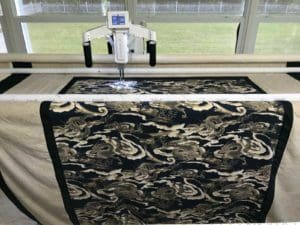 My Avante was free motion only and I enjoyed pantographs and ruler work too. I also knew that all those computerized designs were beautiful and got my creative juices flowing. So in March of 2019 I took the plunge and purchase the Pro Stitcher to expand my quilting options and better service my customers.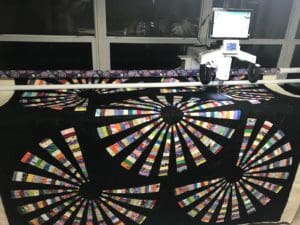 I've been in retail for over 22 years, I've learned a lot and enjoyed most of my time there. But I'm ready for a change where I can take my knowledge and experience to the next level and create beautiful cherished items for amazing quilters and crafters that love this art form as much as I do. I hope you join me on this new journey and see where we go….