This Quilt was a project that i was playing with one day. I had acquired 2 fat quarter bundles of these prints and liked the pattern that came with it.  Upon checking the supply list I found out I needed more fabric and was unable to find it.  So I started playing around with layouts and sizes of strips to get the most out of the fabric that I had.  I ended up making the center of the quilt with the fat quarters.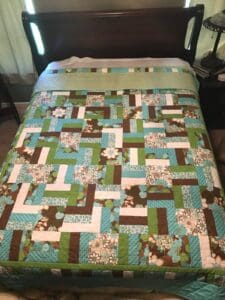 I cut the smaller prints into strips and then sewed together in different groups of 3. I squared the strips into blocks and used the larger prints to make blocks the same size.  Then I tried several different layouts and finally decided I liked this random design best.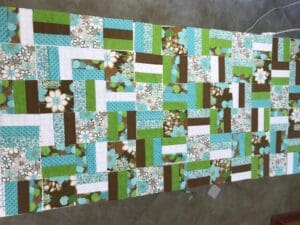 I purchased 2 solids that match and use as borders.  I had quite a few little scraps left over so I decided to do a piano key border to use them up. I really love how it turned out.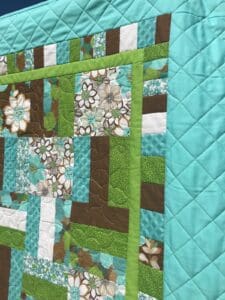 Now onto the back…
For the back I found a print in the same green as the front, and thought this is my lucky day.  Then when it was measured it came up a little short to attach to the long arm for me to feel comfortable about getting it done right.  So as they say "Necessity is the mother of all inventions!" I still had some scraps left from trimming up blocks and the piano key border, and with the addition of some of the solid fabric I was able to add some scrappy strips to the backing to make it longer.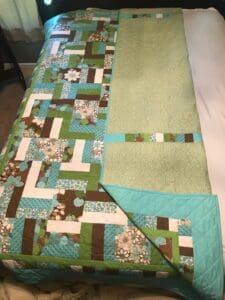 I strategically placed one of the strips at the top so when you folded it down it would show up.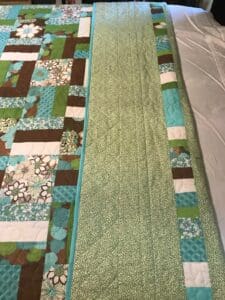 I free motioned the center with big wild flowers and stitched in the ditch on the piano key border.  Using rulers I finished the outer border with a lattice look to match one of the prints.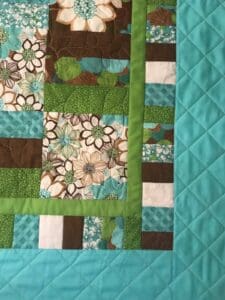 My husband took this quilt to a workshop to barter with other attendees.  The quilt was very well received and was bartered with a photographer who won it.  She took these beautiful pictures.